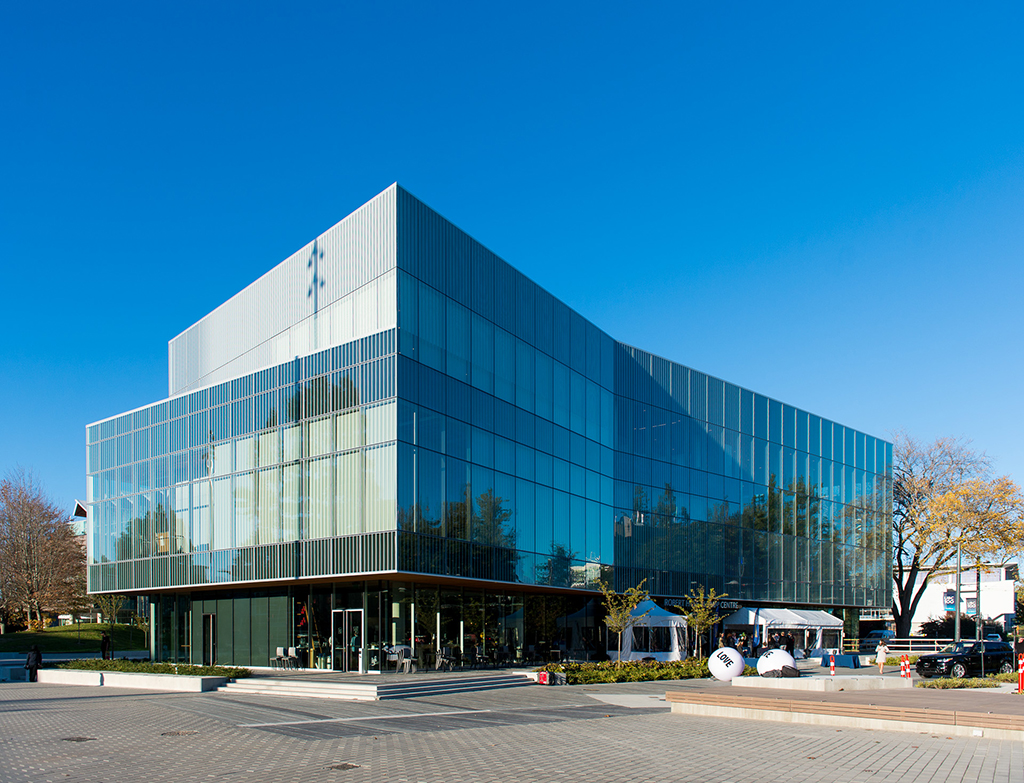 The Award-Winning UBC Robert H. Lee Alumni Centre
The University of British Columbia (UBC) has an ever-evolving, growing campus. What was once familiar territory for graduates is changing constantly. The Robert H. Lee Alumni Centre was built to give the University's 300,000 odd graduates a 'front door' they could knock on whenever they came back home. For Syncra Construction, being the chosen construction management partner for a building that has become the "heart of the UBC campus" has made this one of the most unique and special projects they have ever done.
The Robert H. Lee Alumni Centre Building
Named after the prominent B.C. business leader and philanthropist Robert H. Lee, the enormous 42,000 square-foot, four-storey building creates a space to celebrate the UBC community and its achievements and foster new ideas, and promote mentorship and career enhancement. 
The Centre's prime location, the intersection of East Mall and University Boulevard, made it the ideal place to host a welcome centre for the university, learning facilities, meeting spaces, a banquet facility, a dedicated meeting space and an upmarket café.
Construction Highlights
Despite the tight construction budget, the Robert H. Lee Alumni Centre looks and feels luxurious. It also holds the coveted LEED® Gold Certification – not a small feat to achieve with a construction budget of just $300 per sq. foot. 
The glass façade creates a statement piece that changes dramatically from day to night. The almost effortless-looking exterior required a state-of-the-art mechanical system to install its unitized curtain wall. The fritted glasswork in a beautiful gradient is highly transparent in the public spaces of the building to give it vitality and gets denser in more private spaces like offices. The entire building envelope is designed to be energy efficient while the HVAC system includes an air-source heat pump with a high-efficiency backup boiler during periods of high demand, and high-level heat recovery to retain heat generated in occupied spaces and use this to pre-heat incoming ventilation air
 "The high-end air-to-water heat pump system is only the second unit to be installed in Canada," notes John Polglase, President at Syncra Construction Corp. "The system is manufactured in Italy and is referred to as the Cadillac of the industry."
The interior public spaces are built to be highly flexible and can be subdivided into sections or merged to create larger rooms as needs arise. The interior statement piece has to be the colossal staircase that reaches for the cantilevered lounge upstairs. The rough cedar and Douglas fir-clad staircase have enormous steel trusses buried inside the guardrails to keep the structure as slim as possible to create an illusion of lightness.
Awards
The Robert H. Lee Alumni Centre is easily Syncra's most awarded project. Some notable awards include:
Lieutenant-Governor of British Columbia's Award of Merit 2017 (Awarded by the Architecture Institute of British Columbia)

Ontario Architecture Association Award of Design Excellence 2016

Urban Development Institute, Pacific Region Award of Excellence 2016
Syncra's involvement in the project was a no-brainer, having been a part of numerous other projects it has completed there including Vista Point, UBC Bookstore Expansion, multiple Public Realm projects and many others. This flagship project has served to cement Syncra's presence on campus. 
Since its inception in 2005, Syncra Construction has worked hard to earn a reputation for providing outstanding service in the core areas of Pre-Construction, Construction Management, and General Contracting in the Lower Mainland. Built upon a solid foundation of knowledge and experience, the company offers a unique portfolio of mixed-use, commercial, residential, institutional, public realm, and First Nations projects.
Get in touch to know more.
---